hour north-west of Springfield, Missouri

Watch the sale on Dish Network Ch. 232.
"Durango" aka Parrty Fan '13 AQHA palomino gelding
 Steady, calm and quiet. Neck rein, backs, sidepass to open gates, takes both leads. Rides bareback with a halter or just a rope around his neck. Safe for anyone, he's a do-anything, go anywhere, unflappable, gem of a guy. Deep gold palomino with a big hip & kind eye.
14.3 hh easy to mount but stout enough to carry any size person.
Crosses logs, water & bridges. Great in rough country or open. Traffic safe, been into town many times & rode in the local parade this spring. Moved cows, worked a lot of horses in the round pen and ponied colts. Pulls off the horn & you can swing a rope off of him.  
I've hauled home a long, small tree off the side of him bareback... it never rattled his composure. Golden inside and out. Saddle up and ride off any time, any weather & be completely safe. I've trained him from the ground up, he has always been that way.
Great ground manners, I don't even need to tie him up when I saddle or work on his feet.
Hobbles, stump mounts, great in trailers & around other horses. No buck or bad habits. Sound.
Pedigree! ~ ~
See the videos of him in action below.
Durango working cows.
For more information call 417-637-0225
Durango & Luna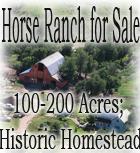 The Nebraska Ranch Sold 5/6/16