hour north-west of Springfield, Missouri
"Lancelot" ~ 2013 jet-black Percheron/QH gelding
Very friendly! Trained to ride and drive, Nicky is a real workhorse in the harness, feeds hay, pulls hard. He is also an impressive horse to ride, with his half Percheron side makes him coal-coal black, and gives him presence and drama while his Quarter Horse side make him amenable and gives him a more hip and shoulder than most draft crosses often come out with. Also, his head is proprotionate to his body, unlike many drafts/draft crosses, so he's a very good looking fellow!
He is being trained to a finished riding horse by Abigail, and will be a great, unique mount to impress your fellow trail riders on! Stands well to mount. He move out with a nice trot and easy walk.

He has been driven single or in a pair, has been to town and on highways: but he does not like busy traffic, so he is not useful for us as a permanent "go to town on the Highway" horse. He is a worker and a happy, goer, so he'd be ideal for anyone who wanted to stay on the farm and get work done, or anyone who wanted to horse log with him, or drive the back roads at a brisk trot.

More photos will be forthcoming.
For more information call 417-637-0225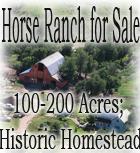 The Nebraska Ranch Sold 5/6/16