"What a doll. [Gypsy] really has adjusted well, and is full of love, licks and a spirit of adventure. Amazingly, the first night went extremely well.
Thanks again for the wonderful care and foundation that you provided."
Dennis & Carol F., Long Beach, Cal.
"Misty" is a gorgeous mahogany with a lush coat, lovely face, and sweet, ladylike, loyal temperament. Straight and correct, she was a beautiful girl and a true "by my side" dog; quietly appearing where ever I happened to go. She had herding instincts, but since she came to us later in life, it did not get developed.
It was a bolt from the blue when in the spring of '13 we were contacted by a retiring breeder, asking if we might be interested in his pair, (Misty & Geronimo) since he was moving. I wasn't really ready for that step, but when I saw their pedigrees and more info, I knew we couldn't refuse. And Abi was so excited that Geronimo and Flash were cousins! So they joined us here. The farm environment was a big leap for them, but they transitioned really nicely and were seriously pleased as punch to be "country livin"!
After taking the time to settle in properly, Misty really enjoyed being a farm dog, and was a terrific watch dog as well as inobtrusive partner for any and all chore-doing. She loved the happy, morning walks, and was very much enamored of Flash, which left her previous "buddy", Geronimo, kind of feeling left out. (But Fiona thought he wass quite cute enough!)
As her reproductive years soon came to a close, Misty took a quiet retirement with a grandfather who could focus all affection on her alone, and she wouldn't have to put up with pups pulling on her fuzz, (she was so patient she just endured it, and never made them back off!) or compete with the other dogs here for a person's attention. She now enjoys leasurely strolls with her buddy, the occasional plate of Italian, and being a star at family get-togethers.
For more information call 417-637-0225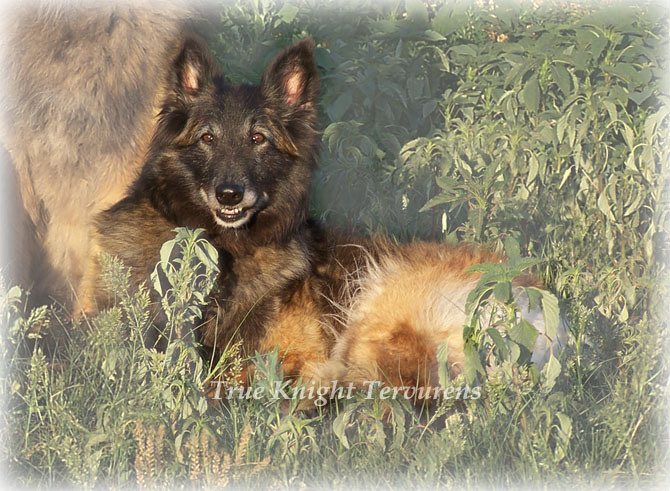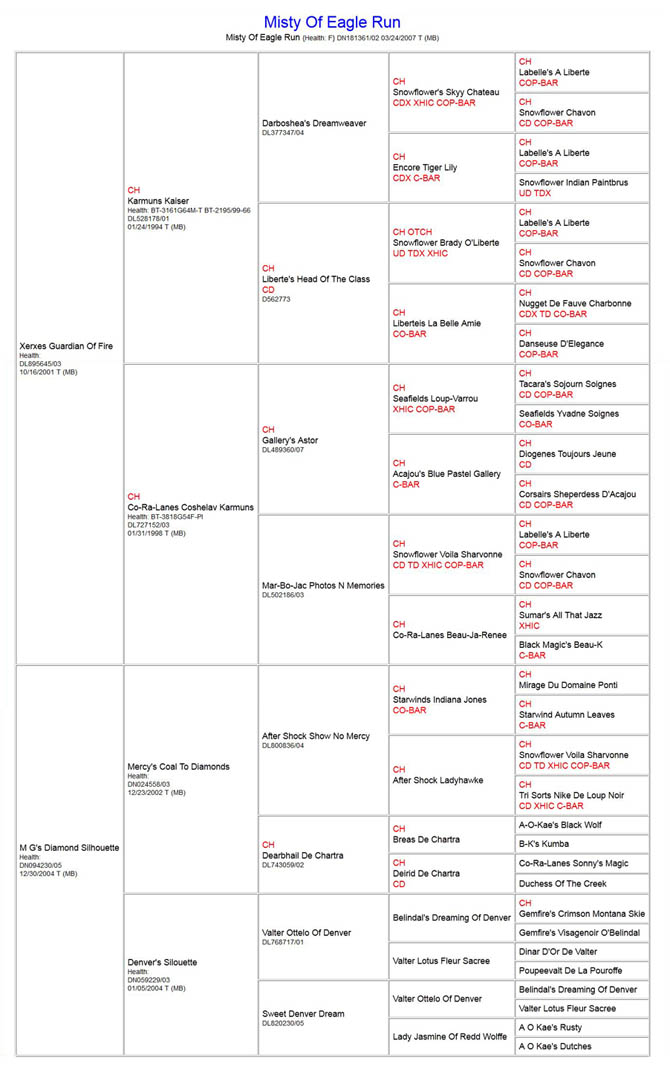 "Within 3 days of arriving [Reagan] knew Sit, down, stay, go lay down, and kennel commands. She is without a doubt the smartest Dog I have ever known.... I can say nothing but positive things. Double-K made my total experience of getting the dog of my dreams easy."
David S Roberts, New Albany, In
Please feel free to contact us about any of our dogs or litters, we are always happy to try and find the right match for you.
Because of the hustle and bustle, the best way to get a hold of us is to simply pick up the phone. There's almost always someone available to answer.
We enjoy hearing from you!
We are available at 417-637-0225, any day but Wednesday.
We are located 45 mi. north west of Springfield, Missouri.
"I have one of the best puppies ever! Argus is such a joy. [...] He is so smart and quickly picks up on new commands.  I can't wait to teach him fly ball."
Kim K. in S.C.

Ranch Home - True Knight - About TK - The Dogs - Litters - Contact Us - Blog
Quality Belgian Shepherd Puppies, for Sale. ( Belgian Tervuren / Gronendael / Belgian Sheepdog) Ranch bred, farm fed, Family raised and loved. Champion Bloodlines. Our puppies have gone to Alaska, Arizona, Alabama, California, Texas, Tennesee, Indiana, Wisconsin, New Jersey, New Hampshire, New Mexico, Nebraska, Illinois, Pennsylvania, Colorado, Maine, Michigan, Minnesota, Missouri, North Dakota, South Dakota, Iowa, Illinois, Florida, Georgia, South Carolina, North Carolina, Massachusetts, Mississippi, Utah, Washington State, Washington D.C., Puerto Rico and Canada.
"[Sandy] is very cute and lovely. On my way home she only was quiet and slept on my legs, She likes to play and nothing is safe right now. [...] I'm really proud of her..."
Frank S.; New Brunswick, Canada