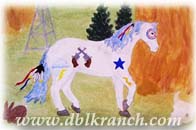 How to get here!
From Greenfield:
Step 1) Take highway H north out of town; which is easy, because it only goes north. Also known as "the Lake Road", it goes no where but north. Turn off 160 onto H at the gas station and come about 2 miles.
Step 2) H will make three curves; first to the right (East) then to the left (North again) then to the right. (East).
Step 3) At this last turn, don't follow it through. Come off the highway still heading north, and even though it looks there there may not be a road there, drive over the little rise... road "133" is waiting.
The sign says "92", but that's the road that cuts to the west right there, ignore that road. (It's cute, but not the one you want.) Keep straight on the gravel that stretches before you, and you'll be looking at our pasture to your right as you leave the asphalt. (Steps 2 and 3 happen in the space of a nanosecond, so don't relax between those two!)
Step 4) Ours is the brick house you can see right off the bat; with a red tin barn behind, corrals, trailer, etc. You can't miss it.
Step 5) Pull straight in the driveway when "133" veers away, and keep coming around to the back of the house. Everyone uses the back door, so pretend the front door doesn't exist. We don't know why, it just is that way. (It's cute, but not the one you want.) There isn't even a path to the front door.
And... there you are! You've arrived at Double K Ranch!!!